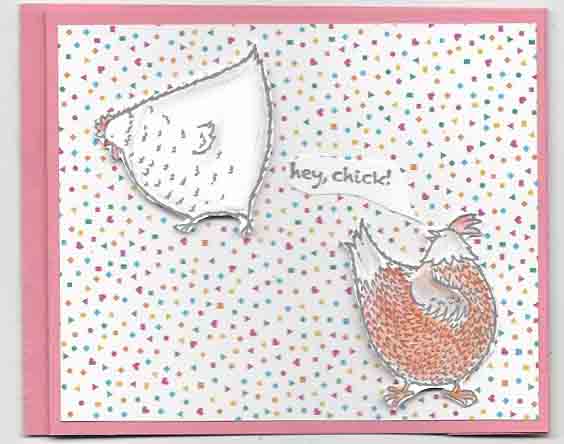 When I first saw the Hey Chick stamp set in the Sale-A-Bration brochure, I knew I had to make a wiper card with the set. This SAB set is absolutely darling and the best part of it is that it is FREE when you purchase $50 in product from me before taxes and shipping.
Now the closed card is cute in and of itself but just see what happens when you pull the ends of the card!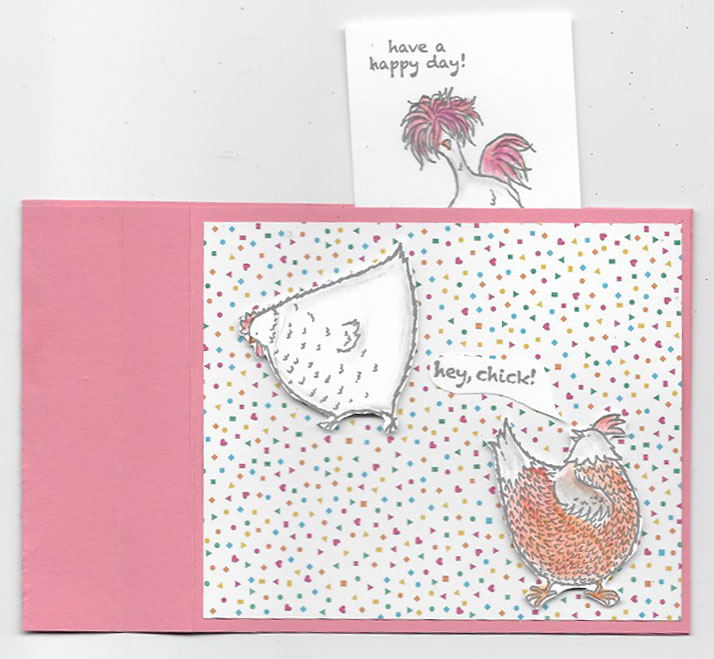 Giggle! I just love that floppy-maned chicken popping up to wish you a happy day! There are several online tutorials and videos showing how to make a wiper card. I followed Dawn Olchefsky's  directions on this video  but made the tag a little longer so more of it would stick up. Wiper cards are fun to make but do take a little fussing to get them right the first time you make one.
The new 2017 Occasions catalog became live Jan 4th and that also was the first day of Sale-A-Bration which runs through March 31st. Sale-A-Bration is the exciting time of year when you can choose one of the FREE items from the Sale-A-Bration brochure for each $50 you purchase in Stampin' Up! products. Contact me if you would like a copy of the 2017 Occasions catalog and the Sale-A-Bration brochure. I love giving them away for just the agreement that I can periodically give you a call to see how I can help you with your creative needs.
Check out this blog and my facebook page frequently to see samples I've created with product from these catalogs.
Clicking on the images below will take you to that product in my online store so you can order them if needed.