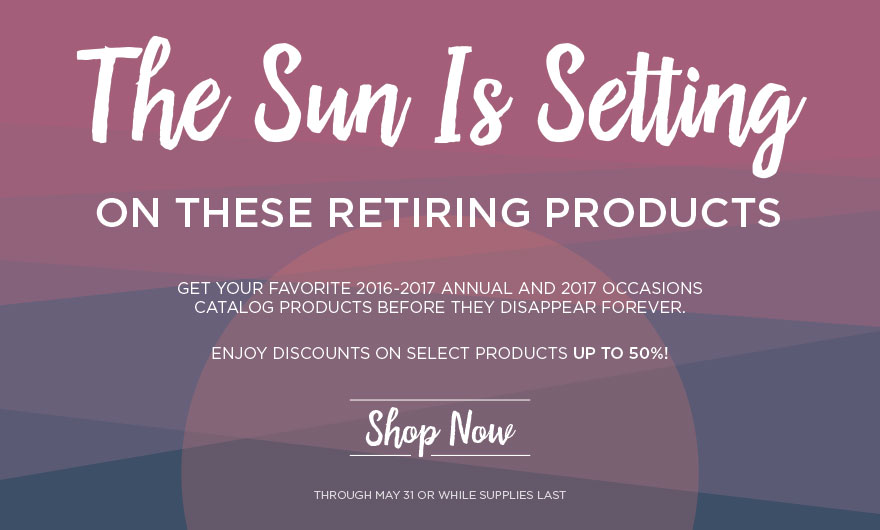 The retirement list is online! Just gotta make room for new product so Stampin' Up! retires product that either didn't sell well or has been around for a while. Some of the retiring product is on sale and will not last long so check the list out right away.  Of course, all the bundles in the 2016-2017 Annual Occasions catalogs retire even if the stamps and dies in the bundle do not retire so order them now and save 10%! Use the links below to see what is retiring.
Main Information:
Promotion dates: April 10–May 31, 2017 beginning at 1:00 PM (MT).
No minimum purchase required.
Retiring items may be added to all order types: demonstrator, workshop, customer, and online.
Retiring items are eligible for Stampin' Rewards with qualifying orders.
Order Information:
All retiring items will be discontinued after May 31.
All retiring accessories and tools are available while supplies last.
Due to high demand for retiring stamp sets, we'll keep producing retiring stamp sets until May 22. After May 22, all retiring stamp sets will be available while supplies last.
Select discounts may vary by market depending on inventory levels.
Depending on inventory levels, we may add additional discounts to select products in May.

These discounts will not be preannounced.
If you or a customer buys a product at retail price and then it is later discounted, Stampin' Up! will not refund the difference.
If there is a product you or your customer wants, we recommend buying it right away and not waiting to see if it's discounted later or you/your customer risk it being sold out.

Discounts will be applied to select retiring items only.
Please start your orders for retiring products after the promotion starts. Orders that are started before the promotion begins will not include the discounted prices.
Have fun shopping and saving!
Sue