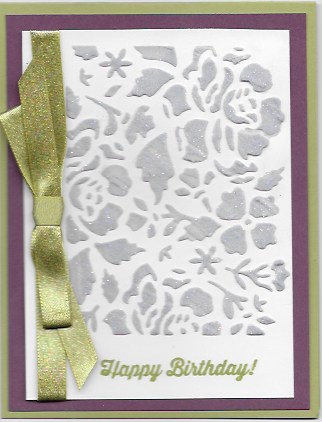 I have become addicted to the Embossing Paste. Stampin' Up! sells a set of four Pattern Party Decorative Masks (144103) to use with the embossing paste and which I have purchased but not used yet. I have been creating masks using various thinlits and cutting the masks from cardstock. By using cardstock, I feel I can just throw the mask away after using it and not have to worry about washing it immediately before the paste dries on it. I also can create all kinds of masks this way.
For this card, I cut the mask from the larger Detailed Floral Thinlits. I tinted the embossing paste with a drop of Wisteria Wonder reinker to give it a light lavender tint. While the embossing paste was still wet, I sprinkled Dazzling Diamonds Glitter on it. Unfortunately, the scan doesn't show the subtle shimmer. I love the results but then went on to another idea.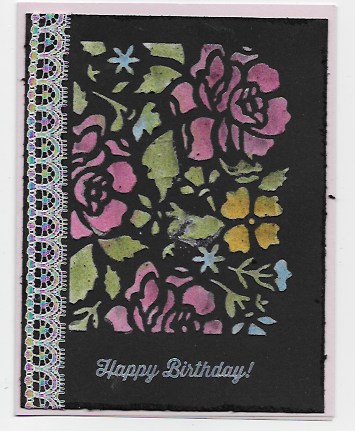 I cut another mask with the Detailed Floral Thinlits, spread the white embossing paste, and allowed it to dry. Then I cut a second, clean mask and laid it over the embossing and sponged Rose Red, Marina Mist, Crushed Curry, and Pear Pizzazz ink on the dry paste. I love this result even more!
I have another idea using embossing paste that I will share with you in another blog post so come back again soon! When you order embossing paste from my online shop, I suggest you order at least two jars of it so you don't run out. Click on the images below to order the supplies I used for these cards.