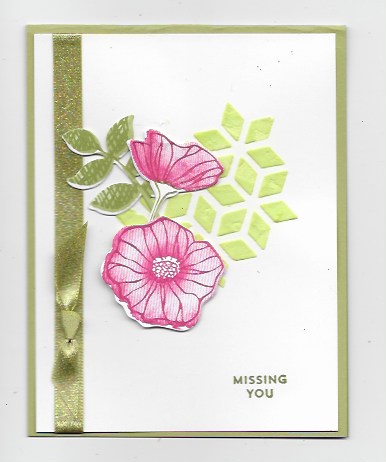 The 2017-2018 Stampin' Up! Annual Catalog, introduces Embossing Paste to our arsenal of creative tools. We now have three ways to add embossing to our creations. There is the traditional heat embossing using a heat tool and embossing powder, dry embossing made easy with embossing folders and the Big Shot Die-Cutting machine, and now embossing paste.
With this paste, you temporarily stick a stencil onto your cardstock and smear the embossing paste onto the stencil. When you lift the stencil, sections of the paste are left on the cardstock. Over the next few posts, I will share different ways you can use this embossing paste. On pg. 201 of the catalog, Stampin' Up! offers precut stencils, Pattern Party Decorative Masks (144103) and Palette Knives (142808) to use with the Embossing Paste (141979). The masks are very lovely but you don't have to limit your creativity to what Stampin' Up! offers. With the wide variety of dies offered, you can create your own masks.
In the card above, I used one of the dies from the O So Eclectic Bundle (wood – 145355, clear – 145356) to make a mask. I tinted the embossing paste with a drop or two of Lemon-Lime Twist reinker. I love how it came out! You can purchase the items I used for this card by clicking on the images below to find them in my online store or contact me by email.
Come back soon to see more ideas for using the new Embossing Paste.