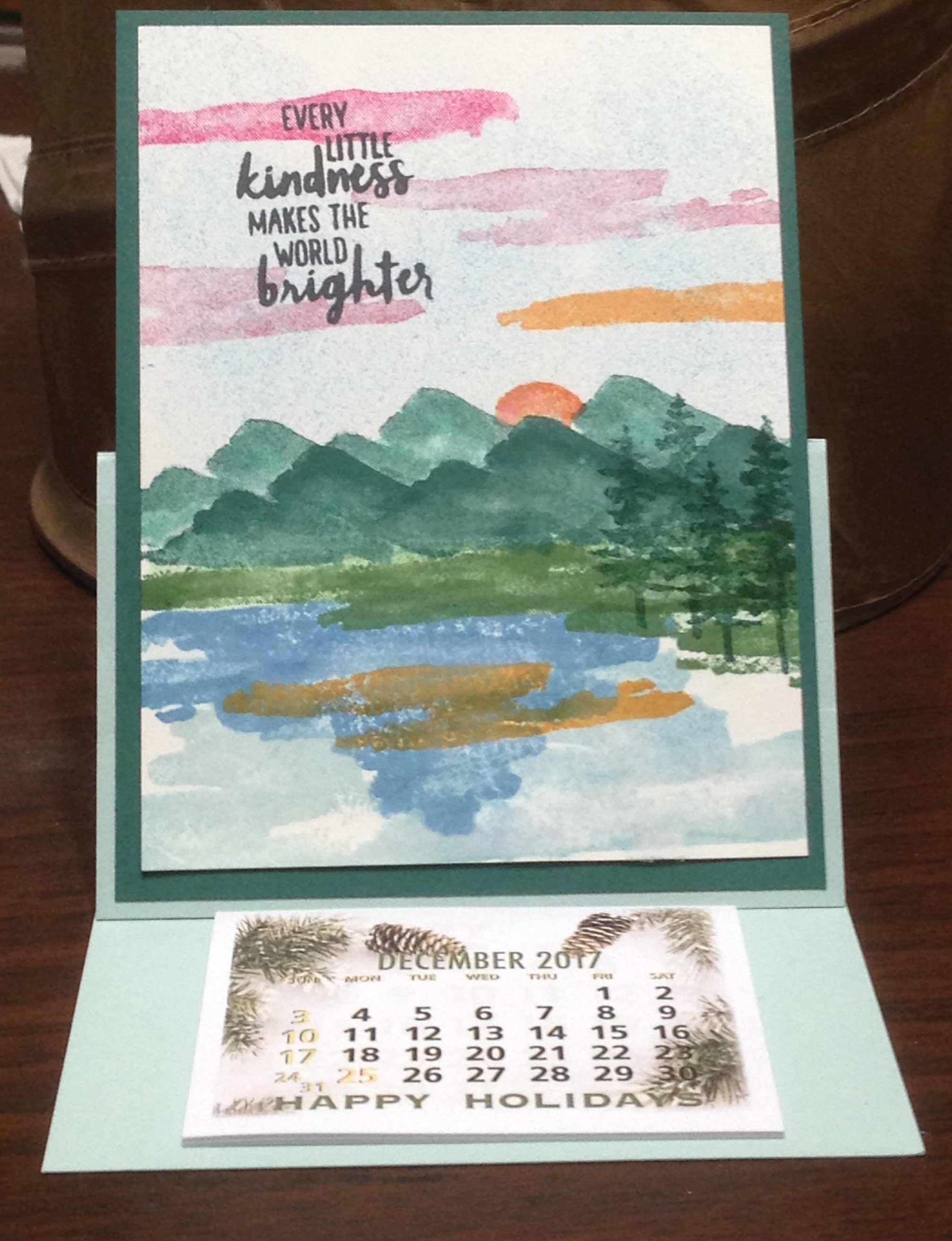 The secret artista in me has been released with this Waterfront stamp set! I love, love, love using the various stamps to create this water-colored look using the stamps in this set. No, I'm not really an artist, the stamps and the wonderful Stampin' Up! inks make it look like I am an artist. Eh…maybe a stamper really is an artist, just not one who draws the images. Anyway, I'm thrilled with the results of my stamping tonight.
Since January is the beginning of a new year, I wanted to hold a class where we made an easel card with a mini calendar on it. To make an easel card, cut a piece of cardstock 4 1/4″ x 11″ and fold it in half. Then fold the front of the card in half again with a mountain fold. Glue a 5 1/2″ x 4 1/4″ piece of cardstock to just the section of the card front that is farthest from the center fold. Put a button, bow, or popped up label on the bottom of the inside of the card to hold the easel open. Decorate the front however you want.
For this card I used Soft Sky for the card base. Then I stamped a 3 3/4″ x 5″ piece of Whisper White cardstock with my scene using a variety of inks. I did mask the mountains when I stamped the setting sun. I used Tranquil Tide for the mountains and the pine trees. The grass was Garden Green. I used Marina Mist and Soft Sky to stamp the water and sponged Soft Sky on the sky. The sun was stamped with Tangerine Tango. The clouds were stamped with Sweet Sugarplum, Melon Mambo, and Peekaboo Peach. I also stamped some Peekaboo Peace on the water.
This layer was then adhered to a 4″ x 5 1/4″ layer of Tranquil Tide and then to the card base. I really urge you to purchase the Waterfront stamp set and release your inner artist. The stamp set also has images to make a tropical waterfront. You can purchase the supplies I used for this card by clicking on the images below to go to my online store. When you order, use the January host code and I'll send you a small Thank You gift.