I'll admit it…I have been really lax about posting on my blog for quite some time now but I a turning over a new page. I will spend more time sharing ideas and tips with you and less playing Secret Society on my i-pad. After all, you are much more important to me than a silly game!
When Stampin' Up! discontinued releasing new downloads on Tuesdays, I was quite disappointed and Tuesdays became a little less terrific. However, they still give us new Weekly Deals on Tuesdays. I created this treat bag with several of this week's deals.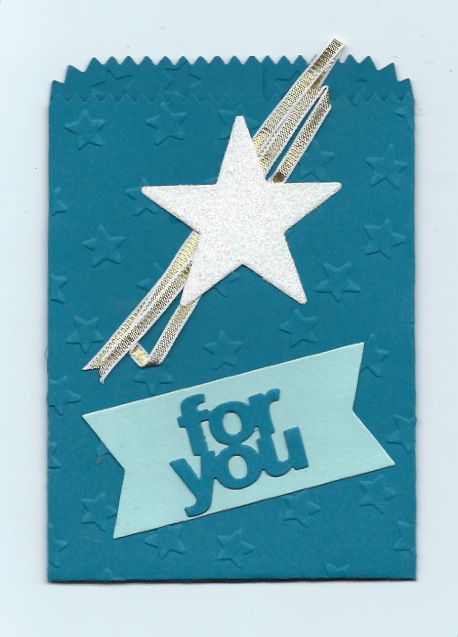 I love the Mini Treat Bag Thinlits. Not only can you use the treat bag to hold candy and cookies, it makes a really easy pocket card. You just cut a piece of cardstock to fit in the bag and stamp a greeting on it. The dies come with a variety of shapes in addition to the bag itself. The banner, 'for you', and the star are all part of the set. I like having texture on bigger expanses of cardstock so I used the Lucky Stars embossing folder on the front of the bag. The Dazzling Diamonds glimmer paper, the Lucky Stars embossing folder, the Mini Treat Bag Thinlits and the gold ribbon are all part of this week's Weekly Deals. Click on the image below to go order them while they are 15% off. Next Tuesday will be too late to get in on the bargain.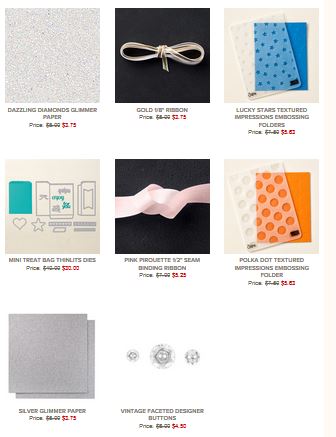 Stampin' Up! has come out with a Cotton Paper Assortment. Cotton paper is thinner than cardstock and works beautifully when making flowers with the Bouquet Bigz L die. It also makes a great treat bag. I used the Watermelon Wonder color to make the treat bag below. It did wrinkle slightly as I used the Lucky Stars embossing folder with it but I liked the effect. It looks like it is almost quilted. I just love the little bows cut from the Dazzling Diamond glimmer paper. The bow die is also part of the treat bag thinlits set.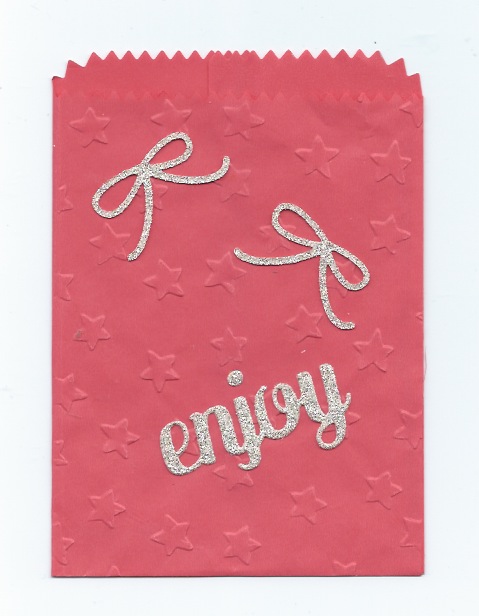 Have I convinced you yet that you 'need' the Mini Treat Bag Thinlits yet?