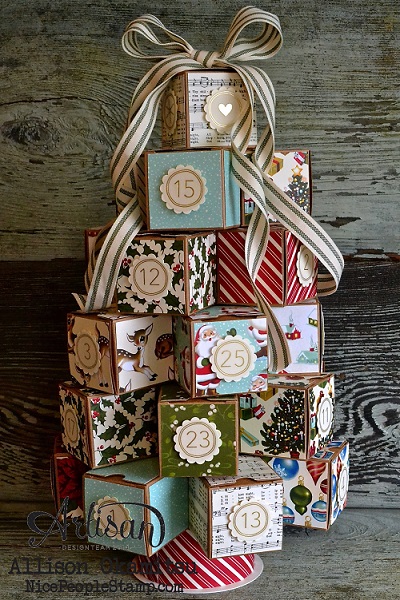 This adorable advent tree created from tiny treat boxes was posted on the Stampin' Up! corporate blog yesterday. The creator is Allison Okamitzu, one of the 2014 – 2015 Artisan Design Team members.
I am offering a class by mail for this project. The kit will include one package of the tiny treat boxes, 1/2 package of the Home for Christmas Designer Series Paper, 1 Hello December 2015 Project Life Accessory Pack (for the date labels – you can use the rest of the package for cards), 2 yards of ribbon, and complete instructions. All you will need to make your tree is hot glue, adhesive, paper trimmer, and a ribbon spool for the base. The price of the kit is $35 which includes flat rate priority shipping.
The supplies will be quite popular now that the tree has been posted and has been shared on Facebook so contact me soon so I can order the supplies for your kit. After the middle of October, they may not be available. Email or call me to order a kit.