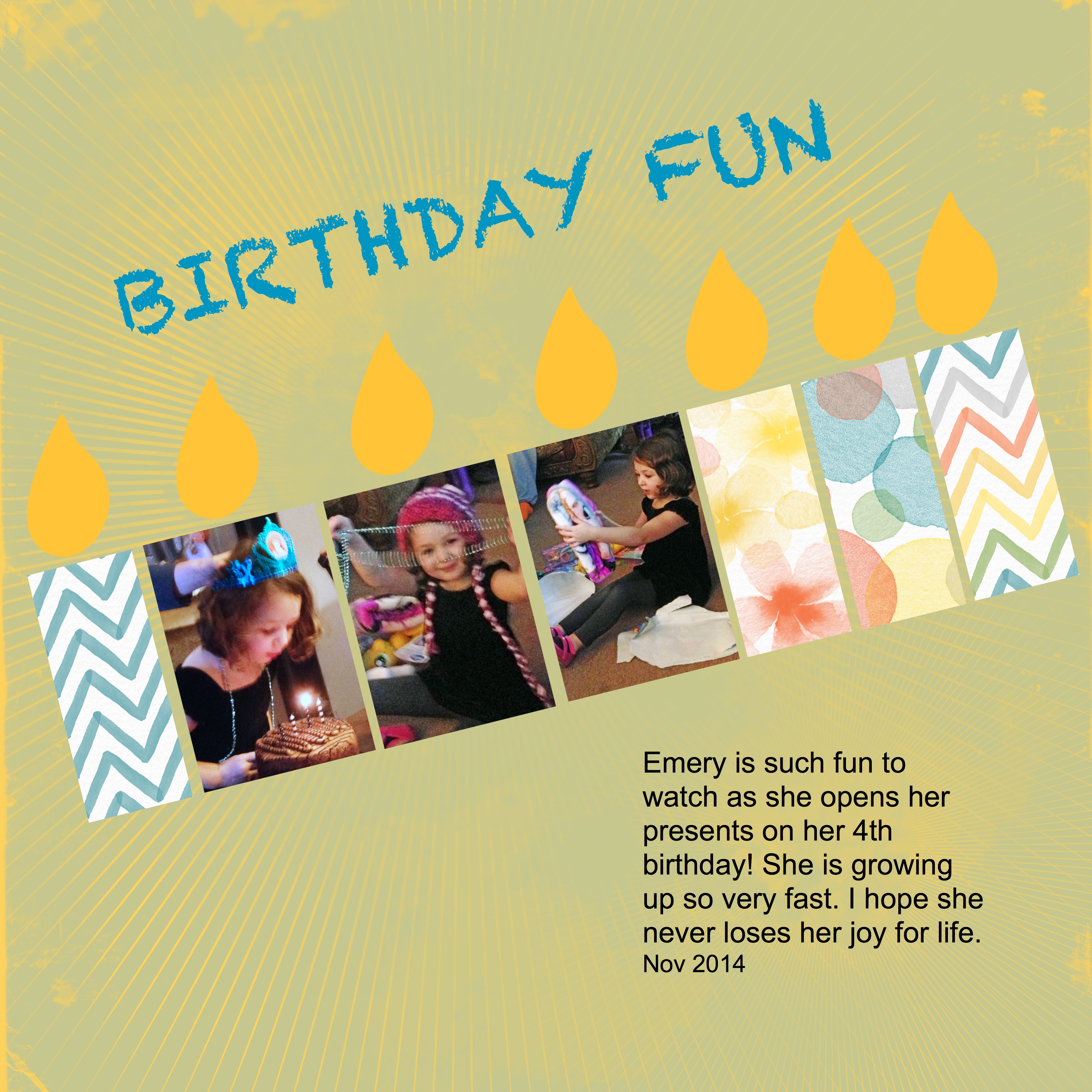 Today I have for you a scrapbook page I created of our great-granddaughter's 4th birthday party for the MDS Monday challenge 101. The challenge is to put the elements on an angle. You can see the sketch here.
The sketch suggested birthday candles but upside down so I went with that theme. I created a photo frame and then copied and pasted it 6 times, narrowing the width of four of them so all seven would fit on the page. Then I discovered I couldn't fill them with designer paper so deleted 4 and created rectangle punches which I filled with various patterns of Watercolor Wonder Designer Series Paper (137077). I grouped the rectangles, photo frames, and candle flames together and then rotated the group -14 degrees. So where did I get the candle flames? They are the wing of the Extra Large-Two Step Bird Punch (122131).
I wanted to use Pear Pizzazz for the background but it was too strong a color and overpowered the rest of the layout. So I made the background Whisper White. Then I applied a 12″ square punch over the Whisper White and filled it with Pear Pizzazz and reduced the opacity to about 65% opacity. Of course, I don't like flat backgrounds so I added the Decorative Overlays Stamp Brush Set (129880) – starburst and colored it with Daffodil Delight. I love the way it brightens the page.
I discovered something today that I have overlooked ever since the MDS2 came out. In the Resource Palette is a tab for layers. It shows all the layers you have on your project. You can click on a particular layer and it will allow you to work with that layer without bringing it to the front! How did I miss that? Think of all the time I could have saved by just clicking on a layer I wanted to adjust. Maybe the rest of you already knew that and I am just a little slow but this discovery excites me. :o)
So I challenge you to take part in this MDSM101 sketch and post it to the MDS Monday website. Let's see what you come up with.