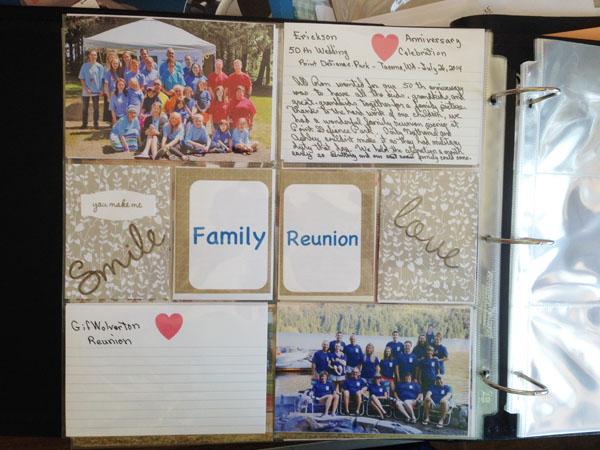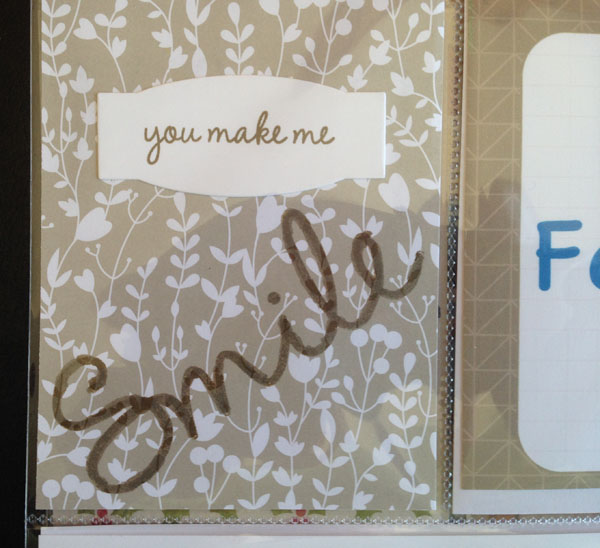 I'm finally getting some scrapbooking done, Project Life by Stampin' Up! style. This style scrapbooking can be as easy as just putting pictures into pockets on the page and choosing pocket cards to add to the page but….it can be not so easy when you have both landscape and portrait style pictures of a single event. In the event above, I did not have any pictures that could be cropped to fit into the small rectangles so I created pocket cards to go in there. The card that says "you make me smile" and the one saying "love" are pieces of the soon to be retired Something Borrowed Designer Series Paper (137785). I used stamps from the also retiring  So You stamp set (137165). Unfortunately both the designer series paper and the stamp set are already sold out.
The two cards saying "Family Reunion" were created with MDS. You can still get downloads through June 2 and even the MDS program itself. After that, the program and your downloads will still work. What you won't have is print services through Stampin' Up! and tech support from them. I discussed alternatives in this post.
The Project Life card set Everyday Adventure had only one of the 4X6 journaling  cards with the heart on it. I wanted to use that card for both of the journaling pockets so I printed one out with MDS as I had purchased the Everyday Adventure digital download. I highly recommend you purchase all the Project Life digital downloads while they are still available from Stampin' Up!. After June 2, you will be able to get the existing Project Life by Stampin' Up! pocket card digital downloads through Becky Higgins here.
Here are some reasons for having all the available digital downloads of Project Life cards:
You can print multiples of a particular card you like without having to purchase another set of cards.
You can add text to your digital cards before printing them out. This allows you to choose the font you want to use. This is particularly useful if you aren't able to hand letter a variety of fonts. :o)
You can change the color of the card and edit some of the elements of the card.
By the way, you don't have to have MDS to use the digital downloads. When you download them, choose 'other applications'. They will work with any program that uses layers and .jpg and .png files. An example of such a program is Adobe Photoshop Elements. There are many more. You have just a couple more days to order digital downloads so go check out and download the ones you want but don't have, especially Project Life downloads, here.