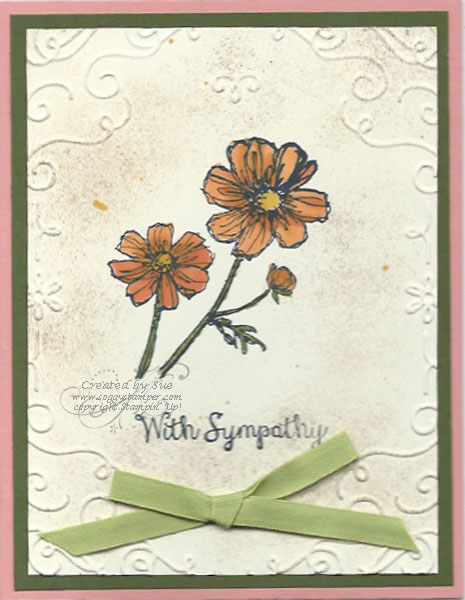 Bloom with Hope (wood – 133949, clear – 133952) was the first stamp set I ordered when the 2014-2015 catalog was released. This hostess set  is perfect for coloring with Blendabilities. We have a friend whose 25 year old grandson passed away yesterday so this card is for them. You can order the supplies used for this card by clicking on the images at the end of this post. Contact me to host a workshop to earn the hostess set, Bloom with Hope.
I have a tip to go along with this card. Don't hold your blendabilities marker over your project or even anywhere near it when pulling off the cap of the marker. Twice now ink has splattered on my work. The last time, I started over on the card but this time I camouflaged the  ink spots by sponging Baked Brown Sugar over the card stock. As is often the case, the fix is better than the original idea! :o)
Stampin' Up!'s Online Extravaganza starts tomorrow! Have you checked out all the great deals and made a shopping list yet? Remember that there are some great Door Busters tomorrow. Check out my Friday post to see what I am talking about and to see my own Soggy Stamper Black Week specials. This link allows you to download a PDF listing the specials.Online_Extravaganza_Products_US. Let the shopping begin!