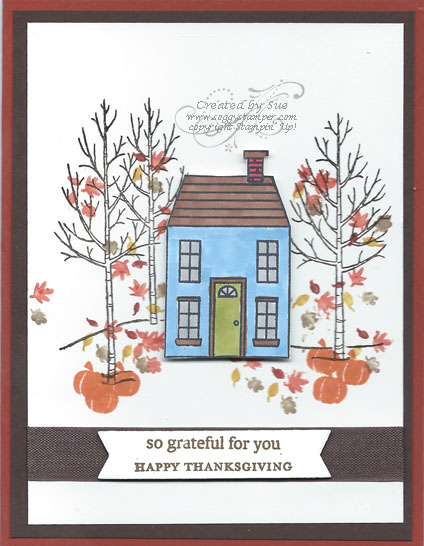 Supplies: Stamp sets – Holiday Home (photopolymer – 135095, bundle – 137631), White Christmas (photopolymer – 135767), Teeny Tiny Wishes (wood – 128748, clear – 127802); Homemade Holiday Framelits Dies (135857, bundle – 137631); Pumpkin Pie, Night of Navy, Old Olive, and Crumb Cake Blendabilities
Happy Thanksgiving everyone! I hope you are able to spend the day with family and friends. I have lots to be thankful for this Thanksgiving, particularly all the blessings God continues to bestow on us, and especially YOU my faithful readers and customers.
I hope you will take the whole day to relax and enjoy each others' company and reflect on all the blessings we enjoy living in this great country. Hopefully you will wait until tomorrow to hit the Black Friday sales.
Speaking of Black Friday sales, let me remind you of Stampin' Up!'s Online Extravaganza that is going on through Dec 2. Click this link to download a pdf listing all the items that are on sale. Online_Extravaganza_Products_US-8  Notice that all 12 colors of Blendabilities will be on sale as a bundle on Monday as a one-day-only door buster. If you have been waiting to get these, now is the time! I love my Blendabilities for coloring in images. I love them first because the color is more transparent so the shading lines of an image show through. I love them secondly because each color comes in a set of light, medium, and dark shades which blend together so easily!
To sweeten the deal, I am adding a couple of Soggy Stamper offers:
Soggy Stamper Black Week Specials
FREE shipping!
You must email me your order so I can place it for you to give you free shipping. I will accept payment by PayPal, credit card, or check if you are local.
$25 Gift Certificate for $20
No limit of quantity and can be used for both product and classes.
These Soggy Stamper specials are offered only by me and the gift certificates can only be redeemed through me.