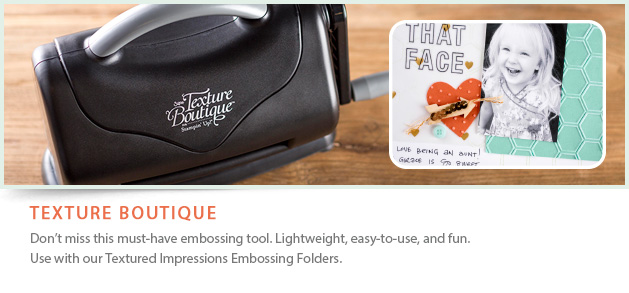 Do you love the look of dry embossing but don't like the time it takes? I have the solution for you! Use the Texture Boutique Machine and one of the many Textured Impressions Embossing Folders that Stampin' Up! sells. There are 22 folders to choose from on pgs. 226 and 227 in the annual catalog and two more in the Occasions catalog.
You put a piece of cardstock or designer series paper in the folder and run it through the Texture Boutique machine. When you are finished, you have a lovely raised design on one side of our paper and the same design debossed on the other side. It is so quick and easy. You can use the Big Shot for embossing but the Texture Boutique machine is much lighter and takes up much less space making it the perfect tool if all you want to do is emboss. It's smaller size is also perfect to taking along to scrapbook and stamping retreats.
What is even more exciting is that this Weekly Deals give you 15% of on the Texture Boutique machine an selected Textured Impressions Embossing Folders. Check them out below. Later this week I will share a couple of ways to use these folders besides just embossing cardstock.