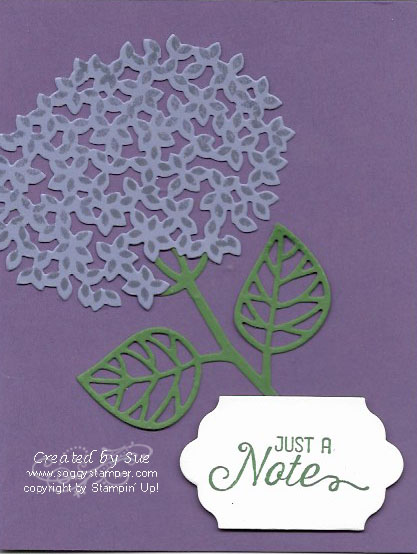 The exclusive Thoughful Branches bundle (144328) of stamp set and matching dies is a special offer by Stampin' Up! only during August. That means you have only two more weeks to order this very versatile and lovely set. I have been having fun playing with it the last few days. First I made a card with a hydrangea on it using Wisteria Wonder, Perfect Plum, and Garden green colors. The greeting comes from the Flourishing Phrases stamp set (141534). This bundle of stamp set and die allows you to create a card in less than 1/2 hour, maybe even less than 15 minutes. That is…after you have chosen the colors you want to use. That part of the creative process takes me quite a while!
Then I have seen several cards where the blossoms were cut from orange cardstock and turned upside down to make a pumpkin. I wanted to do that too so cut out the blossom die from Pumpkin Pie cardstock without stamping the petals on it. That didn't quite do it for me because I'm too much of a realist and the pumpkin would look like it had been shot full of holes. :o) So I stamped the leaves on it and made a fall tree.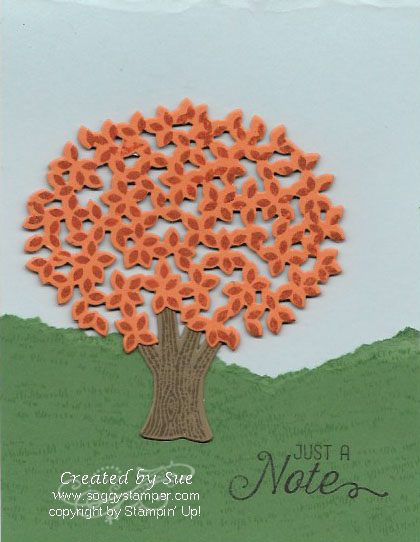 i wanted to try again for a pumpkin but ended up with a beautiful fall colored shrub. :o)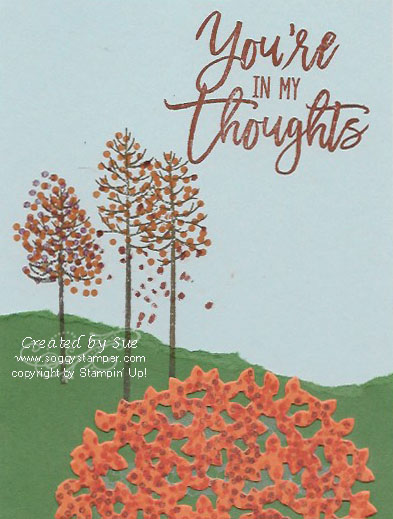 This is my favorite of the three. Which do you like best? Leave your answer in a comment. Now that you see the versatility of this set, click on the images below to order your set before the end of August.